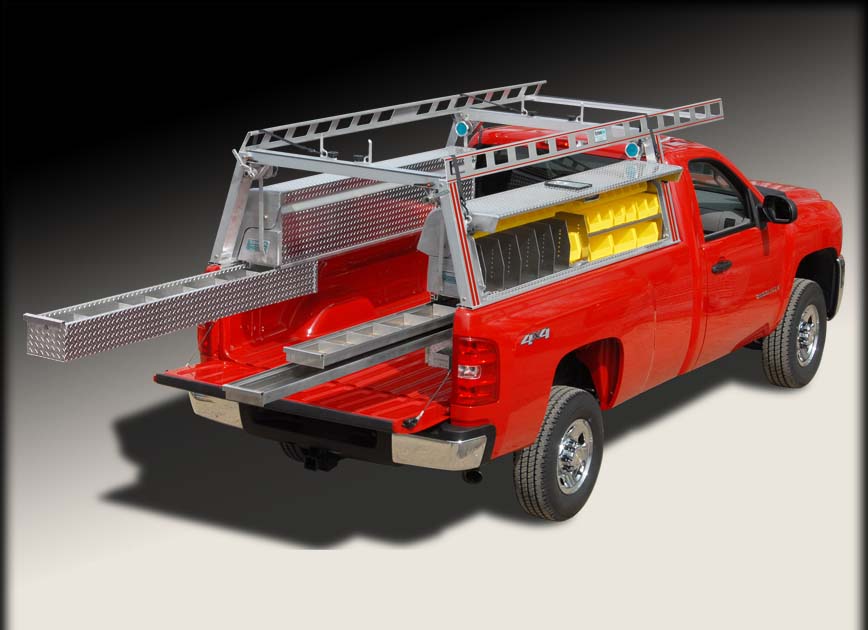 Welcome to System One® Modular Truck Equipment!
Work Winches for All System One Ladder Racks / Truck Racks
Full Access Aluminum Truck Tool Boxes
Combination with Bins Interior
Full Access Aluminum Truck Tool Boxes
Combination Interior
Full Access Aluminum Truck Tool Boxes
Divider Interior
Full Access Aluminum Truck Tool Boxes
Shelf Interior
Full Access Aluminum Truck Tool Boxes
Open Interior
System One® manufactures high quality aluminum ladder racks, truck tool boxes, and drawers for pick-up trucks and vans in a variety of configurations. These ladder racks and accessories are used by contractors, utility companies, the military and other government agencies and are built entirely from aluminum alloy and stainless steel for a long, hard life in some of the most challenging construction environments to be found anywhere. Our truck racks and van racks are without a doubt the best engineered ladder racks available.  Our innovative Work Winch® is made to secure overhead cargo efficiently and safely and is the only rust-free Integrated Tie-down System made.
Unlike heavier steel ladder racks, aluminum ladder racks deliver rust-free strength and light weight, which means you enjoy an attractive no-maintenence appearance and the reduced weight gives you greater fuel efficiency.  Aluminum ladder racks are more tolerant of scratching and the kind of abuse that usually spells the end of most steel racks.  Steel ladder racks become either a constant maintenance headache or continue to deteriorate until you lose your investment completely. 
Among aluminum ladder racks for contractor trucks, System One®  stands out.  When you purchase a System One® ladder rack, Full Access® truck tool boxes or StowAway™ drawers, you make an investment in solid equipment which will ultimately save you money.  Made entirely of high-strength aluminum alloy with stainless steel hardware, your System One® ladder rack has a virtually unlimited lifespan and will pay for itself many times over. In fact, many people move their System One® truck rack and truck tool boxes from truck to truck as the years go by.
Our Full Access® truck tool boxes are constructed from .100" bright aluminum diamond tread plate, 3/16" (.188") cast aluminum ends, and 3/4" stainless steel pivot pins set in bronze bearings, The pivoting lid design provides complete accessibility to an interior that offers unique storage and organization options. Organization means efficiency and efficiency means money, and that's crucial in today's competitive business environment. Full Access® truck tool boxes are the toughest and heaviest aluminum truck boxes made anywhere. Add our StowAway™ Drawers and you have a system for storage and organization that surpasses all others.
This is what makes System One® equipment such an outstanding value.
Please have a look at our equipment and compare it to others. We think you'll be impressed.